Henley W E, Diario d'Ospedale. Tre traduzioni inedite dal Diario d'Ospedale di W. E. Henley, Nuovi Argomenti - Officina poesia, 28/6/2015 (first italian translation)


Ricoeur P, La poesia pensante di Lucio Saffaro, Enthymema IX, 66-71 (2013), ISSN: 2037-2426, DOI: 10.13130/2037-2426/3529 (first italian translation)




* * *

Dal Diario d'Ospedale di William Ernest Henley

Sergio Rampino 2013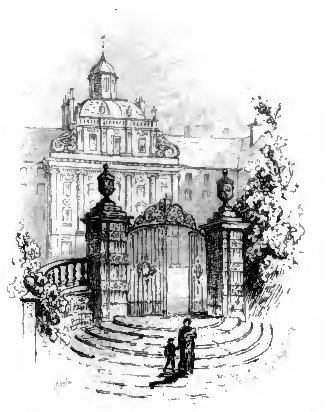 The Old Edinburgh Infirmary.
Etching by William Hole (1846-1917) from Henley W E, A Book of Verses, London, Alfred Nutt, 1888.


*
I Enter patient

The morning mists still haunt the stony street;
The northern summer air is shrill and cold;
And lo, the Hospital, grey, quiet, old,
Where Life and Death like friendly chafferers meet.

Thro' the loud spaciousness and draughty gloom
A small, strange child - so agèd yet so young! -
Her little arm besplinted and beslung,
Precedes me gravely to the waiting-room.

I limp behind, my confidence all gone.
The grey-haired soldier-porter waves me on,
And on I crawl, and still my spirits fail:

A tragic meanness seems so to environ
These corridors and stairs of stone and iron,
Cold, naked, clean - half-workhouse and half-jail.

I Accettazione

La notte fumiga fuori le porte
Ancora; l'aria estiva gela e graffia:
Là è l'ospedale, dove ai loro traffici
S'abboccano la vita con la morte.

Tra buio e spifferi, la mano offesa
E il braccio con la ferula raccolto
Al collo, una creatura grave in volto
E al passo mi precede in sala attesa.

Le arranco dietro, senza ormai più cuore.
Il portiere barbuto mi fa segno.
E i nervi crollano, tanto è qui pregno

Tutto, mattoni e acciaio, di squallore
Tra queste mura livide di cera
Metà ricovero, metà galera.

II Waiting

A square, squat room (a cellar on promotion),
Drab to the soul, drab to the very daylight;
Plasters astray in unnatural-looking tinware;
Scissors and lint and apothecary's jars.

Here, on a bench a skeleton would writhe from,
Angry and sore, I wait to be admitted:
Wait till my heart is lead upon my stomach,
While at their ease two dressers do their chores.

One has a probe - it feels to me a crowbar.
A small boy sniffs and shudders after bluestone.
A poor old tramp explains his poor old ulcers.
Life is (I think) a blunder and a shame.

II Attesa

Sala riquadra e tetra a cielo basso
(Una cantina riqualificata);
Impiastri sparsi tra ferraglia astrusa;
Forbici, garze e beute da apprendisti.

Qui, su una panca che abominerebbe
Un lemure, tra stizza e angoscia io aspetto
Che mi mettano il cuore sullo stomaco
E due inservienti armeggino incuranti.

Uno ha una sonda: sembra un apricasse.
Un ragazzino trema per l'emetico.
Un accattone mostra le sue ulcere.
La vita è un grosso sbaglio e la vergogna.

XIII Casualty

As with varnish red and glistening
Dripped his hair; his feet looked rigid;
Raised, he settled stiffly sideways:
You could see his hurts were spinal.

He had fallen from an engine,
And been dragged along the metals.
It was hopeless, and they knew it;
So they covered him, and left him.

As he lay, by fits half sentient,
Inarticulately moaning,
With his stockinged soles protruded
Stark and awkward from the blankets,

To his bed there came a woman,
Stood and looked and sighed a little,
And departed without speaking,
As himself a few hours after.

I was told it was her sweetheart.
They were on the eve of marriage.
She was quite as a statue,
But her lip was gray and writhen.

XIII Infortunio

Con il capo che gocciava,
Pale i piedi, e il busto teso
Che, se issato, ricascava:
La lesione era spinale.

Giù da una locomotiva,
Trascinato nel pietrisco.
Era andato, era palese:
Fu coperto e ripartirono.

Mentre a letto, vivo a tratti,
Dava gemiti sconnessi,
Coi calzini grinze e graffi
Spòrti in qua dalla coperta,

Venne in camera una donna.
Stette un po', tirò un sospiro,
Se ne andò senza dir niente:
Come lui, qualche ora dopo.

Seppi poi ch'era di nozze.
Che era lei, la sua promessa.
Era calma come un'erma,
Ma col labbro torto e livido.

XVIII Children: private ward

Here in this dim, dull, double-bedded room,
I play the father to a brace of boys,
Ailing but apt for every sort of noise,
Bedfast but brilliant yet with health and bloom.

Roden, the Irishman, is 'sieven past,'
Blue-eyed, snub-nosed, chubby, and fair of face.
Willie's but six, and seems to like the place,
A cheerful little collier to the last.

They eat, and laugh, and sing, and fight, all day;
All night they sleep like dormice. See them play
At operations: - Roden, the Professor,

Saws, lectures, takes the artery up, and ties;
Willie, self-chloroformed, with half-shut eyes,
Holding the limb and moaning - Case and Dresser.

XVIII Bambini. Camera riservata

In questa doppia buia, dal mio letto,
Faccio da babbo a un paio di ragazzi
Buoni per ogni sorta di schiamazzi,
Malati sì, ma tanta vita in petto.

Naso all'insù, paffuto e grossa testa,
Rod l'irlandese ha 'sette anni e mezzo';
Willie ne ha sei e al posto pare avvezzo,
Piccolo manovale sempre in festa.

Mangiano e ridono tra canti e botte
Di giorno e sembrano due ghiri a notte.
Eccoli là che giocano a operare:

Il luminare Rod taglia ed insegna;
Willie si narcotizza e un braccio impegna
Con l'altro - fa il malato e l'ausiliare.

XXIV Suicide

Staring corpselike at the ceiling,
See his harsh, unrazored features,
Ghastly brown against the pillow,
And his throat - so strangely bandaged!

Lack of work and lack of victuals,
A debauch of smuggled whisky,
And his children in the workhouse
Made the world so black a riddle

That he plunged for a solution;
And, although his knife was edgeless,
He was sinking fast towards one,
When they came, and found, and saved him.

Stupid now with shame and sorrow,
In the night I hear him sobbing.
But sometimes he talks a little.
He has told me all his troubles.

In his broad face, tanned and bloodless,
White and wild his eyeballs glisten;
And his smile, occult and tragic,
Yet so slavish, makes you shudder!

XXIV Un suicida

Gli occhi al cielo della stanza,
Barba incolta sul cuscino
E la calma di una salma:
Ha una benda attorno al gozzo.

Senza paga, avvezzo al whisky,
Con la prole in case fabbrica,
Trovò il mondo un rompicapo
Così oscuro che, alle strette,

Affrettò una soluzione:
Ma il coltello era smussato
E la morte non fu svelta
Quanto chi lo trasse in salvo.

Tra vergogna e dispiacere,
Ora a notte emette gemiti.
Qualche volta parla un poco:
Mi racconta dei suoi guai.

Sotto quella fronte oscura
Spiccano i due bulbi bianchi;
E il sorriso, così tragico
E asservito, mette i brividi.

XXVII Nocturn

At the barren heart of midnight,
When the shadow shuts and opens
As the loud flames pulse and flutter,
I can hear a cistern leaking.

Dripping, dropping, in a rhythm,
Rough, unequal, half-melodious,
Like the measures aped from nature
In the infancy of music;

Like the buzzing of an insect,
Still, irrational, persistent
I must listen, listen, listen
In a passion of attention;

Till it taps upon my heartstrings,
And my very life goes dripping,
Dropping, dripping, drip-drip-dropping,
In the drip-drop of the cistern.

XXVII Notturno

Nel segreto della notte,
Quando l'ombra s'enfia e ràrefa
Al pulsare delle lampade,
Senti una cisterna perdere.

Goccia e sgocciola con ritmo
Scabro, impàri, mezzo armonico
Come le misure atomiche
Ai primordi della musica;

Come il bombo di un insetto
Che persiste irrazionale,
Devi stare ad ascoltare
Con l'udito e i nervi acuiti;

Finché picchia dritto al cuore
E goccia anche la tua vita,
Goccia e sgoccia, goccia a goccia,
Nel goccìo della cisterna.

Advertisement from Poems (1898)

My friend and publisher, Mr. Alfred Nutt, asks me to introduce this re-issue of old work in new shape. At his request, then, I have to say that nearly all the numbers contained in the present volume are reprinted from 'A Book of Verses' (1888), and 'London Voluntaries' (1892-3). From the first of these I have removed some copies of verses which seemed to me scarce worth keeping; and I have recovered for it certain others from those publications which had made room for them. I have corrected where I could, add such dates as I might, and, by re-arrangement and revision, done my best to give my book, such as it is, its final form. If any one be displeased by the result, I can but submit that my verses are my own, and that this is how I would have them read.

The work of revision has reminded me that, small as is this book of mine, it is all in the matter of verse that I have to show for the years between 1872 and 1897. A principal reason is that, after spending the better part of my life in the pursuit of poetry, I found myself (about 1877) so utterly unmarketable that I had to own myself as beaten in art, and to addict myself to journalism for the next ten years. Came the production by my old friend, Mr. H. B. Donkin, in his little book of 'Voluntaries' (1888), done for that East-End Hospital to which he has devoted so much time and energy and skill, of those unrhyming rhythms in which I had tried to quintessentialize, as (I believe) one scarce can do in rhyme, my memories of the Old Edinburgh Infirmary. They had long since been rejected by every editor of standing in London - I had wellnigh said in the world; but as soon as Mr. Nutt had read them, he entreated me to look for more. I did as I was told; old dusty sheaves were dragged to light; the work of revision and correction was begun; I burned much; I found that, after all, the lyrical instinct had slept - not died; I ventured (in brief) 'A Book of Verses'. It was received with so much interest that I took heart once more, and wrote the numbers presently reprinted from 'The National Observer' in the collection first (1892) called 'The Song of the Sword' and afterwards (1893) 'London Voluntaries'. If I have said nothing since, it is that I have nothing to say which is not, as yet, too personal - too personal and too afflicting - for utterance.

For the matter of my book, it is there to speak for itself: -

'Here's a sigh to those who love me
And a smile to those who hate.'

I refer to it for the simple pleasure of reflecting that it has made me many friends and some enemies.

W. E. H.

Muswell Hill, 4th September 1897.

Premessa ai Poems (1898)

Il mio amico ed editore Mr. Alfred Nutt mi chiede di introdurre questa riedizione, in veste nuova, di lavoro vecchio. Su sua richiesta, devo allora dire che quasi tutte le liriche contenute nel presente volume sono riedite da 'A book of Verses' (1888) e 'London Voluntaries' (1892-3). Dal primo dei due, ho tagliato fuori un certo numero di versi che mi sembrava valesse poco la pena di mantenere; e ho per esso recuperato certi altri dalle tali pubblicazioni che li avevano accolti. Ho corretto dove ho potuto, aggiunte più date che potessi, e fatto del mio meglio, nell'opera di riordino e di revisione, per dare al mio libro, così com'è, la sua forma finale. Se qualcuno avesse di che crucciarsi del risultato, posso soltanto aggiungere che i versi sono i miei, e che è così che vorrei che fossero letti.

Il lavoro di revisione mi ha portato a considerare che, per piccolo che sia questo libro, esso è quanto in fatto di poesia io abbia da riportare per gli anni tra il 1872 e il 1897. Ragione capitale di ciò è che, dopo aver speso la parte migliore della mia vita nel perseguire la poesia, mi ritrovai (intorno al 1877) così assolutamente incommerciabile che dovetti riconoscermi sconfitto in campo d'arte, e adeguarmi al mestiere del giornalista per i dieci anni che seguirono. Venne poi, per opera del mio vecchio amico Mr. H. B. Donkin, la pubblicazione, all'interno della sua piccola raccolta di 'Voluntaries' (1888) compilata per quello stesso Ospedale dell'East-End al quale egli ha consacrato così tanto tempo, energia e capacità, di quei versi liberi nei quali mi ero sforzato di sublimare, come difficilmente (credo) possa farsi in rima, le mie impressioni dell'Old Edinburgh Infirmary. Erano stati a lungo rifiutati da qualunque editore di qualche riguardo a Londra - e avrei ben detto al mondo; ma non appena Mr. Nutt li ebbe letti, mi pregò di procurargliene di più. Feci come mi fu richiesto: vecchi fascicoli impolverati rividero la luce e il lavoro di revisione e correzione ebbe inizio. Molto bruciai; trovai che, dopotutto, la mia indole lirica era sopita - non morta; in breve, misi su 'A book of Verses'. Questo fu accolto con tanto interesse che mi feci animo ancora una volta e scrissi i versi, in questo volume riediti dal 'National Observer', della raccolta chiamata in principio (1892) 'The Song of the Sword' e più tardi (1893) 'London Voluntaries'. Se taccio da allora è che non ho niente da dire che non sia, ancora, troppo personale - troppo personale e troppo doloroso - perché trovi espressione.

Quanto al mio libro, esso è qui a parlare da sé: -

'Ecco un sospiro a coloro che mi amano
E un sorriso a coloro che odiano.'

Cito solo per il piacere di constatare che mi ha procurato molti amici e solo qualche nemico.

W. E. H.

Muswell Hill, 4th September 1897.

(c) Sergio Rampino 2015-7.